Narration and Selfhood
An Exploration of Use of Pronouns in theNarratives of Female Survivors of 1947 Migration
Keywords:
Narrative, discourse, pronominal categories, identity, culture, Muslims, gender, migration
Abstract
This study is based on the discourse analysis of forty narratives of female survivors of 1947 migration. The analysis is conducted through an exploration of linguistic choices of pronominal categories used by the narrators. It focuses on the ways; the narrators project their identities in the capacity of individual and collective protagonists and personalize and depersonalize their experience assuming the roles of protagonist, observer or affectee in their narratives. The analysis highlights the use of pronominal categories for representation of self as an individual and as a member of group i.e. women folks and Muslim community; and cultural significance of switching between pronouns in the course of narration. The analysis of data reveals that the migrants were socio-centric narrators. They used the pronoun we to relate the most precarious incident of their migration experience to give it a touch of reality as it was a collective experience of millions of up-rooted Muslims. They felt shielded under the umbrella term of we which served to distance the enemy. The use of narrative voice, we for Muslim community heightened the effect of tragedy being so huge and disastrous. Use of we for Muslim women, emphasized a sense of solidarity and the aspiration of women for seeking the approval of social authority at any cost. The respondents have exhibited their multilayered identities including the gender, cultural, ethnic and religious identities, shaped in the light of approved cultural norms.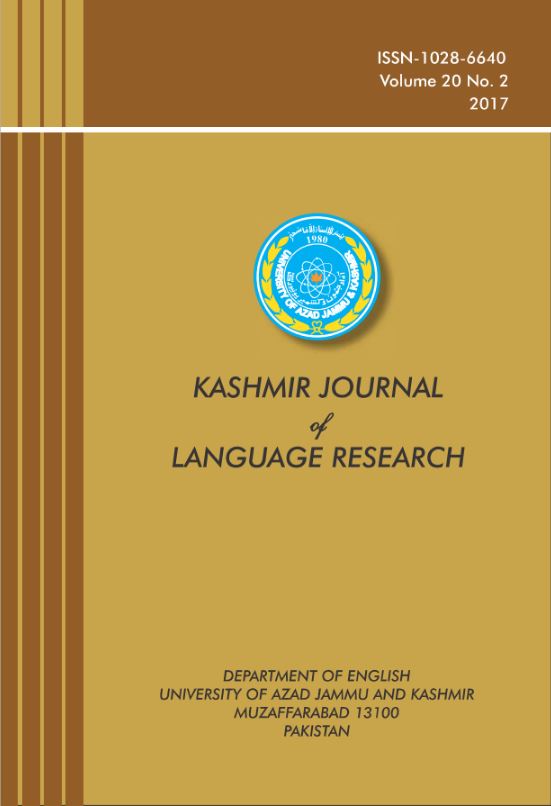 Downloads
License
Copyright (c) 2022 Kashmir Journal of Language Research
This work is licensed under a Creative Commons Attribution 4.0 International License.