Genre Analysis of MA ELT Theses
A Case Study of National University of Modern Languages, Islamabad
Keywords:
Genre-analysis, CARS model, moves, thesis
Abstract
Writing a thesis efficiently in an educational setting for attaining an academic degree is a hard task particularly at the graduate level since students at this stage happen to be novice researchers. As thesis writing is a special genre of writing having its own mechanics, conventions and norms, the graduate students have to really battle in order to meet the requirements of this genre. Moreover, their problems multiply when they have to write thesis in a second language, i.e. English. Writing is also highly culture-bound that throws further intricacies and complexities to students. This study aims to explore the discrepancies found in the theses written by the MA ELT (English Language Teaching) students at the National University of Modern Language, Islamabad, Pakistan. The study makes use of qualitative and quantitative research paradigms. The researchers have probed these difficulties with a particular reference to CARS model given by Swales. The researchers have analyzed twenty randomly selected theses completed by the students over a period of two years (2011-2012). It has been found that the students confront serious problems, e.g. inability to build a coherent case, state a research problem, and relate the findings to the conclusion besides other genre-related problems. The researchers also found some glaring inconsistencies in the thesis writing patterns which can have serious mythological implications. Understanding these inconsistencies would enable supervisors to furnish more targeted guidance to students and to make them follow the conventions of thesis writing more successfully.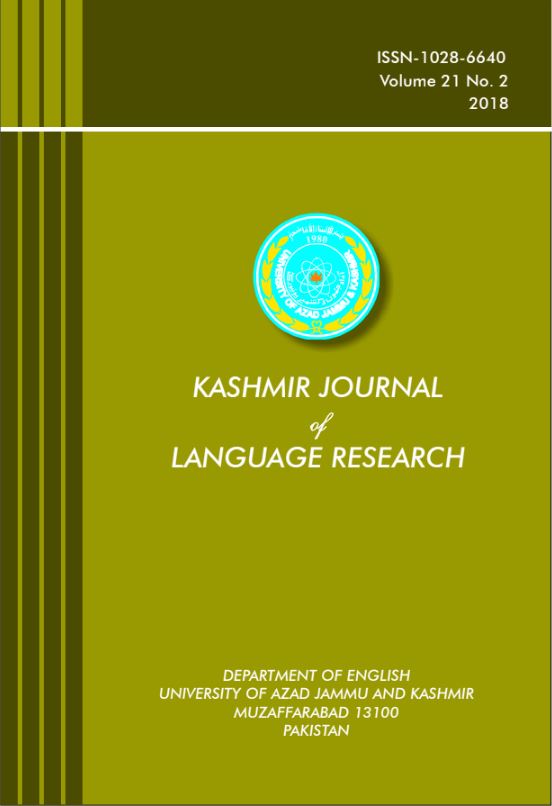 Downloads
License
Copyright (c) 2021 Kashmir Journal of Language Research
This work is licensed under a Creative Commons Attribution 4.0 International License.