Role of Hindko in Multilingual Community
Issues of Language(s) Choice and Use
Keywords:
Hindko, multilingual community, instrumental and integrative attitudes, issues of preferences
Abstract
This study explores issues related to the use of Hindko in the multilingual settings through a sociolinguistic survey conducted among 60 Hindko speaking and 60 non-Hindko speaking participants in the Mansehra region.  The focus is on the expanding use of Hindko among Hindko-speaking respondents and on the limited use of non-Hindko speaking respondents, relating this with instrumental and integrative attitudes. A general introduction to Hindko is followed by the objectives, and a review of previous studies related to instrumental and integrative attitudes towards using language as well as cross-linguistic and cross-cultural influences in the Mansehra region. The findings indicate that a significant number of Hindkowans and non-Hindkowans hardly speak Hindko in formal settings, for instance at the work place. As opposed to Rensch, Hallberg and O' Leary's (1992/2003) findings almost twenty five years ago, this survey shows that the reduced use of Hindko and the contact with other vernaculars in the region is damaging the vitality of the original Hindko dialect. However, limiting the use of Hindko does not affect culture. Although another ethnic language i.e. Pashto, and the official language i.e. Urdu, are spoken among the vast majority of the population, these languages are seeping into the Hindko dialect. Such influence is also found in the culture to some extent, though the people wear the same traditional dress and celebrate the same festivals as purely Hindko-speaking society does.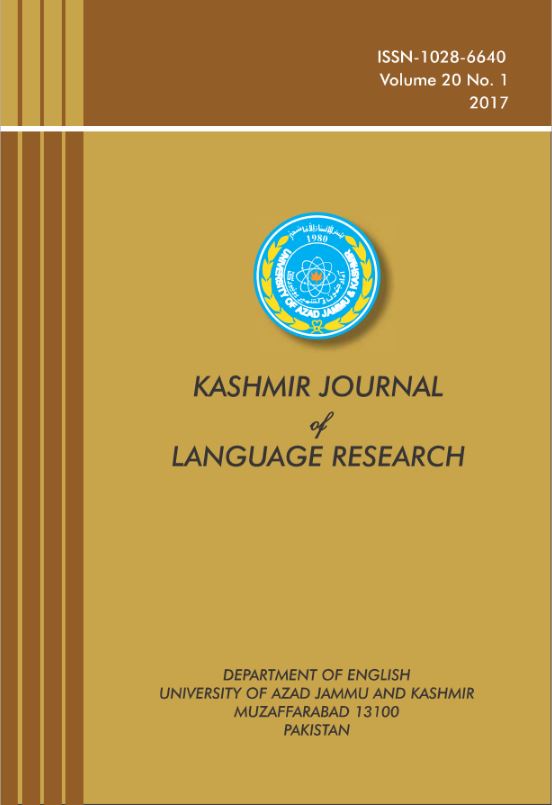 Downloads
License
Copyright (c) 2022 Kashmir Journal of Language Research
This work is licensed under a Creative Commons Attribution 4.0 International License.