Assassin or Innocent
Portrayal of Raymond Davis in CNN Headlines
Keywords:
lexical strategies, grammatical strategies, pragmatic interpretation, CNN headlines, Raymond Davis
Abstract
This article aims to explore the portrayal of Raymond Davis in CNN headlines. It also aims to analyze the lexical and grammatical strategies used within the headlines functioning as the speech acts. The impact of these strategies on the pragmatic interpretation of the CNN headlines will also be explored. Raymond Davis was a Central Intelligence Agency contractor who killed two Pakistanis and was arrested at the spot. CNN gave coverage to this event on its website with eyecatching headlines. In order to analyze the functions of headlines related with the portrayal of Raymond Davis, a qualitiative analysis was conducted following the speech act theory. The lexical and grammatical analysis of the headlines functioning as the speech acts was also conducted keeping in view the previous researches in the same field. It was found that the terminology used to address Raymond Davis varied in the headlines which altered their pragmatic interpretation. By using different pragmatic, lexical and grammatical strategies, most of the headlines described Pakistani authorities responsible for holding him in Pakistan for more than two months while presenting his blameless image.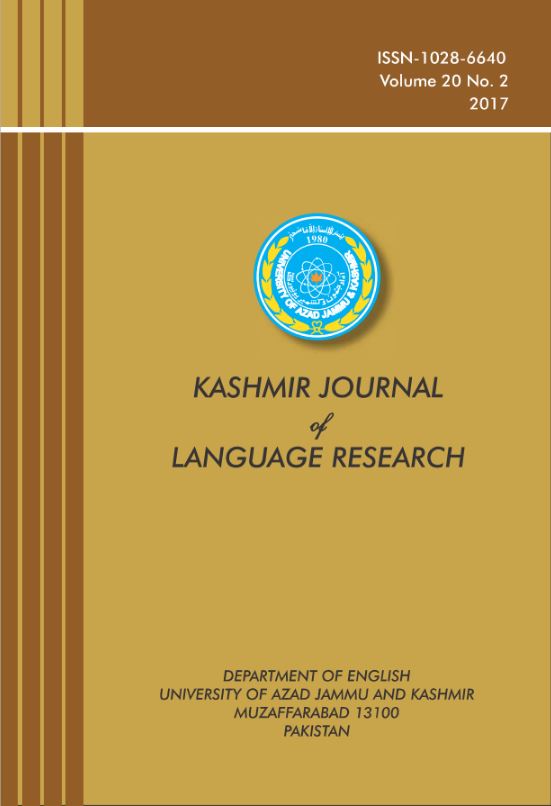 Downloads
License
Copyright (c) 2022 Kashmir Journal of Language Research
This work is licensed under a Creative Commons Attribution 4.0 International License.