The Role of Lexical Choices in Shaping Political Representation through Print Media Practices in Pakistan
Keywords:
Lexical choices, connotations, euphemism, metaphor
Abstract
Language generates different realities, and this power of language is exercised through institutions and organizations by establishing their hegemonic control. Similarly, media enjoys a powerful position in shaping the realities through discourse. Print media in Pakistan has attained a significant position in recent years, and with this controlling position, it may influence the readers' mind more emphatically to shape their subjective perception. This study looks into the role of print media in shaping the public opinion through its power of producing the lexical choices for the news reporting of the political speeches of prominent Pakistani political leaders. For this purpose, the speeches of the prominent leaders of major political parties were selected and three Pakistani newspapers namely The News, Dawn and The Express Tribune were selected for political representation through media reports. The speeches were selected on the basis of having media coverage on the front pages of these newspapers. Lexical choices with a focus on connotations, euphemism and metaphoric expressions used in the print media reports were studied to see how the power of media shapes the political discourse for its readers. This study reveals some important tendencies and a considerable difference between the actual speeches and the printed reports regarding the lexical choices. The print media reports adopt their preferred setting in choosing different words in the speech representation of various leaders, which results into the influenced perception of the readers. In this way, Pakistani English newspapers, in general, construct the realities to represent the political discourse.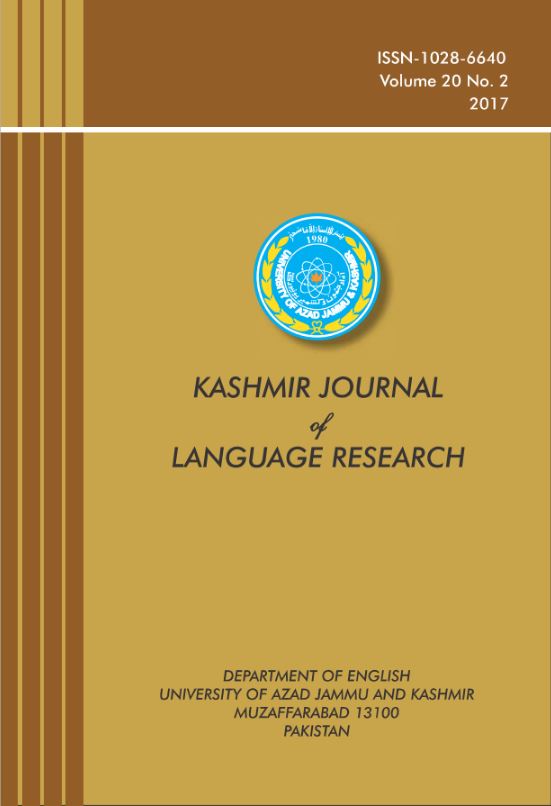 Downloads
License
Copyright (c) 2022 Kashmir Journal of Language Research
This work is licensed under a Creative Commons Attribution 4.0 International License.