Fixedness of Expressions in Doctoral Research Dissertations
A Corpus Based Analysis
Abstract
Lexical bundles are word structures which occur together more often than expected. The current study aimed to explore lexical bundles in a corpus of Pakistani doctoral dissertations. For this purpose a corpus was compiled which consisted of three broad disciplines of study; English Studies, Social Science and Biological Science. Every discipline consisted of three different subjects with high number of dissertations as has been listed by HEC (Higher Education Commission) Pakistan. The corpus was analyzed using AntConc 3.4.4w (Windows)2014 and for the structural categorization of lexical bundles, Biber et al's (1999) taxonomy was used as theoretical model which was later modified to more deeply investigate the structure of the lexical bundles. The results show that dissertations written in Pakistan rely heavily on prefabricated chunks of language, but the choice and usage of these chunks, or lexical bundles, varies from subject to subject and discipline to discipline. The difference among the structural categories within disciplines (among different subjects of a discipline) is less compared to the difference among the structural categories of different disciplines. The study shows that English Studies and Social Science corpora use more Prepositional Phrase Fragments and Noun Phrase Fragments whereas Science Corpus use more Verb Phrase Fragments and Prepositional Phrase Fragments.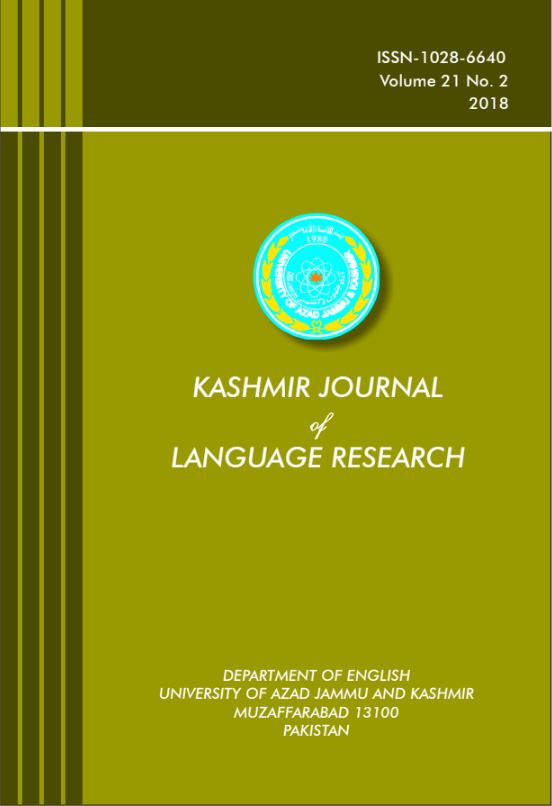 Downloads
License
Copyright (c) 2021 Kashmir Journal of Language Research
This work is licensed under a Creative Commons Attribution 4.0 International License.