Stylometry of Short Stories through Voyant Corpus Summary Tool: A Text Mining Study
Abstract
Text mining tools quantify big data precisely to express stylistic features of any text within a few seconds. This study aims to extract quantified stylistic qualities computationally in five American short stories (1. Button, Button, 2. Clearing in the Sky, 3. Dark They Were and Golden Eyed, 4. Thank You M?am, 5. The Piece of String). Students of literature encounter complications in grasping precise stylistic qualities of a writer in a short span of time or even before reading the text since exact comprehension of stylistic qualities facilitates in understanding the target text, its form, literary function and readers? critiquing ability. Current study mines the selected five short stories to derive certain stylistic characteristics quantitatively and qualitatively. Summary panel, a component of Voyant text mining tools, is applied to unveil quantified and qualitative stylistic features of literary texts. One advantage of implementation of Voyant Summary tool for data generation is that its results are statistical, qualitative, accurate and efficient. Mixed method is applied to produce authentic and valid results of this research. On philosophical grounds, Knowledge Discovery Theory by Rakesh Aggrawal is applied to extract potentially worthwhile new knowledge patterns. Major findings of this study are that all short stories employ dialogic technique and the common theme "said" is found in all short stories. Three short stories among five demonstrate their vocabulary density from 0.307 to 0.362 which exhibit ratio of unique words and total words in a short story. Average length of sentences ranges from 9.9 to 12.9 words which express small and simple construction of sentences by the writer.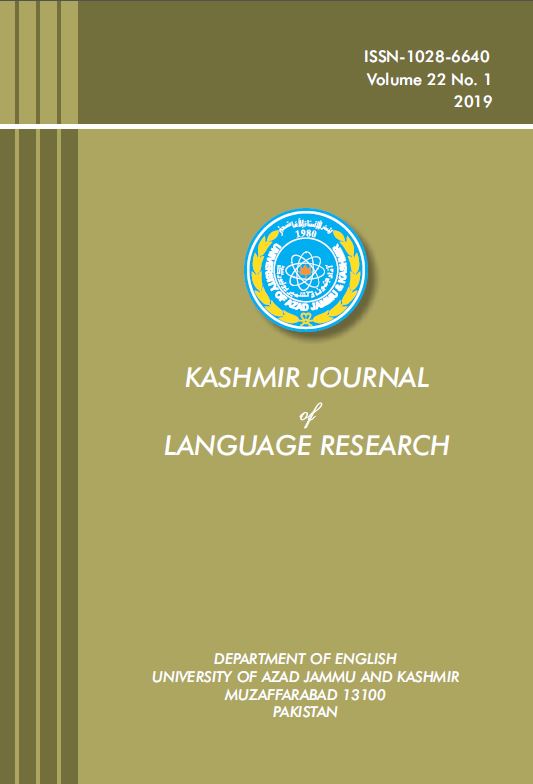 Downloads
License
Copyright (c) 2021 Kashmir Journal of Language Research
This work is licensed under a Creative Commons Attribution 4.0 International License.