The Twilight of 9/11 and Altered 'Political Action': A Reading of Pakistani Anglophone Fiction
Keywords:
Hybridity, New Historicism, Capitalism, culture, Anglophone fiction, postcolonial writings
Abstract
This paper explores the contribution of Pakistani Anglophone novel in the first decade of the twenty first century in the discourses of cultural and postcolonial critique of contemporary fiction. Taking V. S. Naipal?s The House of Mr. Biswas as an example, Bhabha warns about the pitfalls of reading a postcolonial text in socially and historically mimetic perspectives, and takes issues with the reabsorption of such works in the English traditionii. In the same vein, I explore four novels by Pakistan?s diasporic writers of the first decade of the present century. In an earlier studyiii, The Reluctant Fundamentalist (2007) by Mohsin Hamid, Home Boy (2010) by H. M. Naqvi, Burnt Shadows (2009) by Kamila Shamsie, and The Wish Maker (2009) by Ali Sethi are read as defining post 9/11 texts for South Asian literature. In this paper, I argue that these works challenge the centrality of Eurocentric literary parameters in terms of linguistic, cultural and capitalistic terms. Their narratives engage in a sort of contrapuntal denunciation of cultural, and capitalistic hegemony, which, Foucault terms as "truth games" or matrix of "technologies"iv. With the theoretical framework comprising of Foucault?s theory of New Historicism and Bhabha?s Hybridity theory, this paper traces the third space of enunciation as crafted by these Pakistani diasporic writers.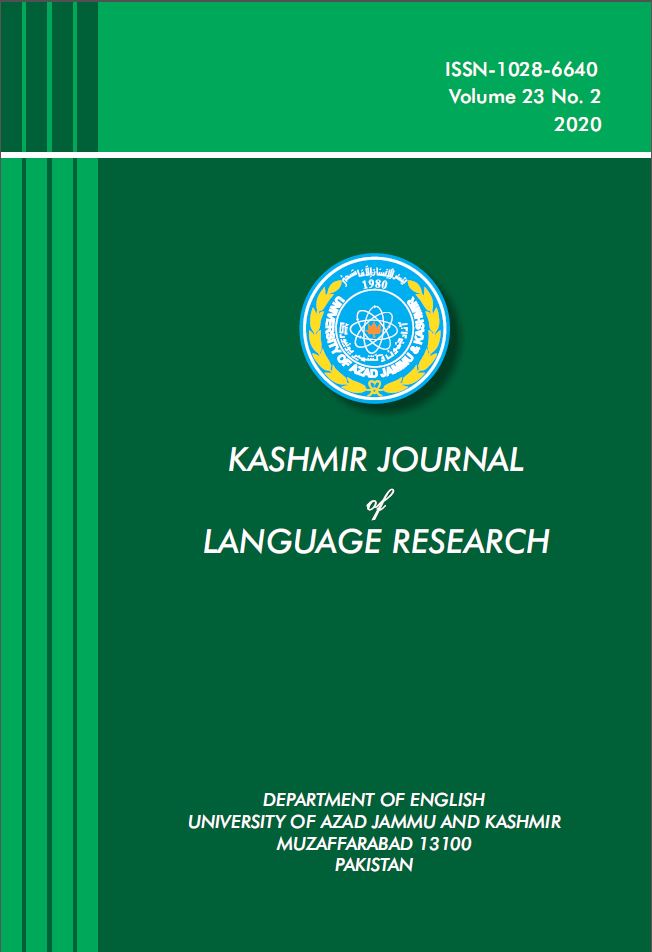 Downloads
License
Copyright (c) 2021 Kashmir Journal of Language Research
This work is licensed under a Creative Commons Attribution 4.0 International License.