Identity(ies) in Counter-terrorism Discourse
Analyzing Discursive Strategies of Pakistan's Constructive Patriots
Keywords:
constructive patriots, identity, Pakistan, Critical Discourse Analysis, Systemic Functional Linguistics
Abstract
In this paper, discursive choices made by constructive patriots of Pakistan which serve to construct and project their identity(ies) as moderate nationalists are examined. In doing so, this study details multifaceted topic of the counter-terrorism discourses of Pakistan which include exclusion of the others, role allocation, association/dissociation and identification/definition. These discursive choices perform multiple functions, two of which are explored here: (a) the projection of constructive nationalist identity as progressive and tolerant by Pakistanis and (b) distancing them from radicalized sections of Pakistani society. To achieve these ends, the counter-terrorism discourse samples have been collected from the online discussion forums of Dawn, a nationally distributed daily newspaper of Pakistan, and analyzed employing Critical Discourse Analysis. These samples serve as substantiated instances of identification paradigm of Pakistani society which emerges from a sub-cultural sphere (i.e. religio-political) and serves to nurture a critical distance between the counter-terrorism and more radicalized discourses of the country.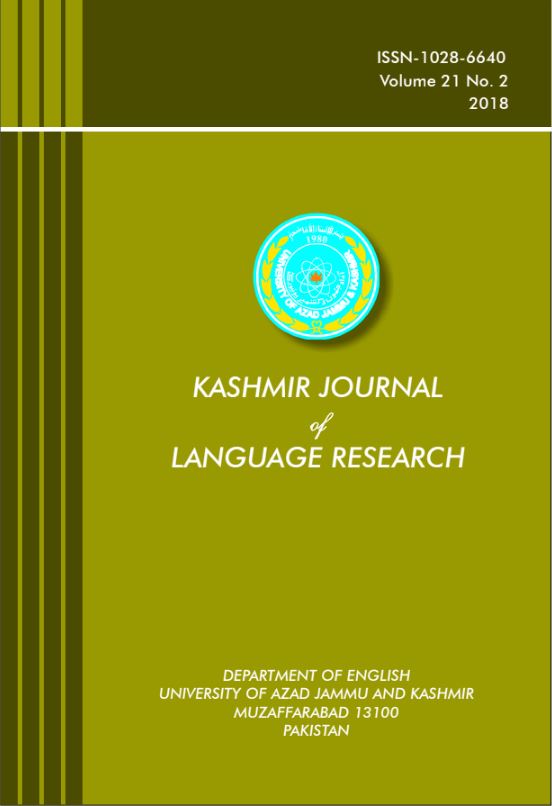 Downloads
License
Copyright (c) 218 Kashmir Journal of Language Research
This work is licensed under a Creative Commons Attribution 4.0 International License.