Linguistic Preparedness and Reading Challenges for Graduate Students across Five Disciplines in Pakistan
Keywords:
Reading challenges, L2 English, Graduate students, Linguistic readiness, Pakistan
Abstract
The increased influx of students in the universities around the
world in the past 10 years, including Pakistan; has led to serious
concerns and challenges in supporting the study success and
academic achievements of the linguistically diverse student
population. Weaker language proficiency and academic language
skills, especially academic literacy skills; have been pointed out as
some of the major factors leading to poor academic outcomes
(Daller, Kuiken, Trenkic, & Vedder, 2021; Uccelli, Galloway,
Barr, Meneses, & Dobbs, 2015). Building on the two recent
research studies, i.e., Hartshorn, Evans, Egbert, & Johnson (2017)
and Anderson (2015) in ESL context in the U.S., this paper
presents results of the study that explored the relative importance
of reading compared to the other three language skills, graduate
students' level of linguistic preparedness for their graduate studies
and professional work, and reading challenges faced by graduate
level L2 English learners in Pakistan in the selected five
disciplines (i.e., English, Business Administration, Computer
Science, Education, and Botany). Data was collected through the
two adapted survey questionnaires. Responses were analyzed using
descriptive statistics and frequencies. Analysis of the results
indicate that a great majority of students and teachers consider
reading to be more important compared to the other three
language skills. Almost half of the total 265 students consider
themselves to be linguistically little and well prepared respectively
for graduate study within their disciplines and more than half of
student respondents think to be little prepared for professional
work linguistically in future within their disciplines of study.
Analysis of the responses of a great majority of teachers shows
that their students are linguistically little prepared both for
graduate study and future professional work. A great majority of
students and teachers consider the following five as the greatest
reading challenges (1) Lack of strategic reading skills, (2) Slow reading rate or speed, (3) Limited comprehension, (4) Limited
academic vocabulary knowledge, (5) Lack of critical thinking
skills. In addition, lack of motivation to reading in English was
also pointed out to be another greatest challenge. Pedagogical and
practical implications of the findings of this study have been
discussed in this paper in the results and discussion section.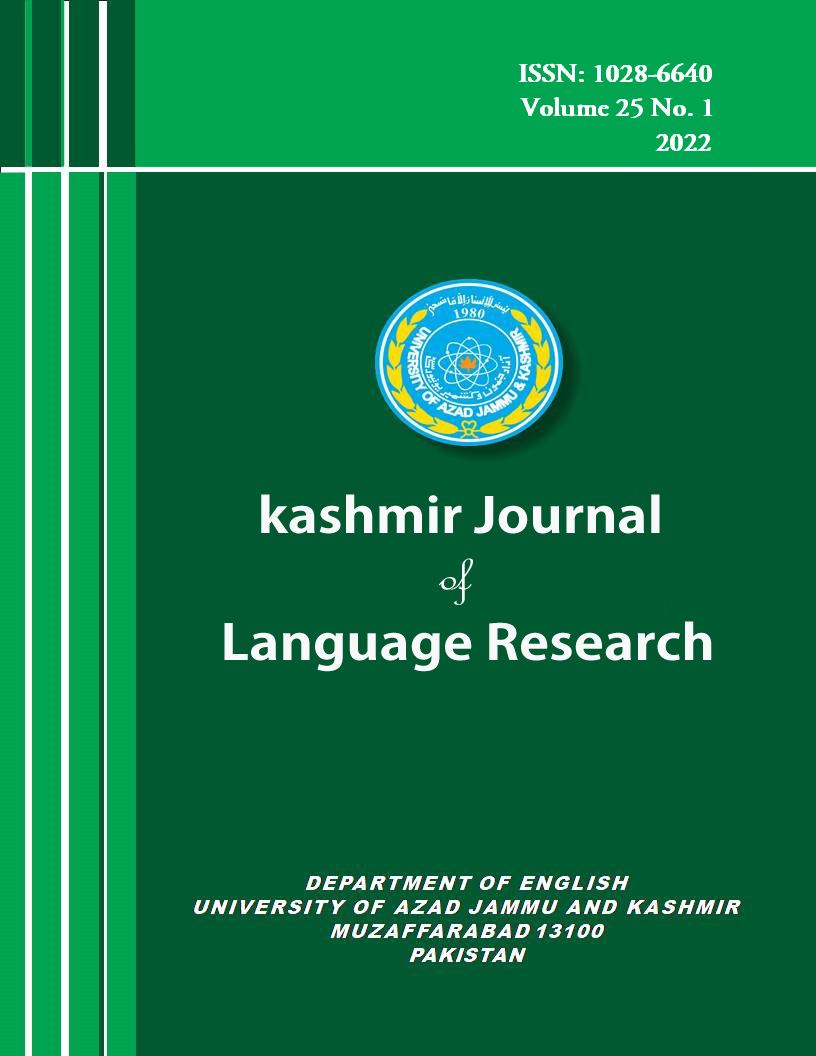 Downloads
License
Copyright (c) 2022 Kashmir Journal of Language Research
This work is licensed under a Creative Commons Attribution 4.0 International License.