American Beauty Empire and Inscription Metaphor
A Study of Third World Women as 'Tabula Rasa' in Sonia Singh's Goddess for Hire and Kavita Daswani's The Village Bride of Beverly Hills
Keywords:
Western beauty norm; Radical Feminism; Postmodern Feminism; Post-feminism; Third World Women
Abstract
Feminist beauty practices occupy an important place in the contemporary world, as it is one of the greatest source of business and profit for the leading international brands. Contrary to the general understanding that women should be at full liberty to exercise their right to beautify them, the radical feminists identified that the Western women are coerced to alter their bodies in accordance with patriarchal aesthetic notions. The present study is an effort to analyze Sonia Singh's Goddess for Hire (2004) and Kavita Daswani's The Village Bride of Beverly Hills (1974) to demonstrate that the Asian American writers inscribe their signature on the body of literature to cast resistance against alienation of the immigrant women living in the USA. The study revealed that both Sonia Singh and Kavita Daswani have highlighted the 'othering' process of these ethnic, transcultural and postcolonial women as alienated from their families and their true selves, yet the dominant culture does not embrace them, because embracing them would mean ending their quest for perfection lauded by American media which would imperil this inhuman, profit oriented mass of industry's monetary gains.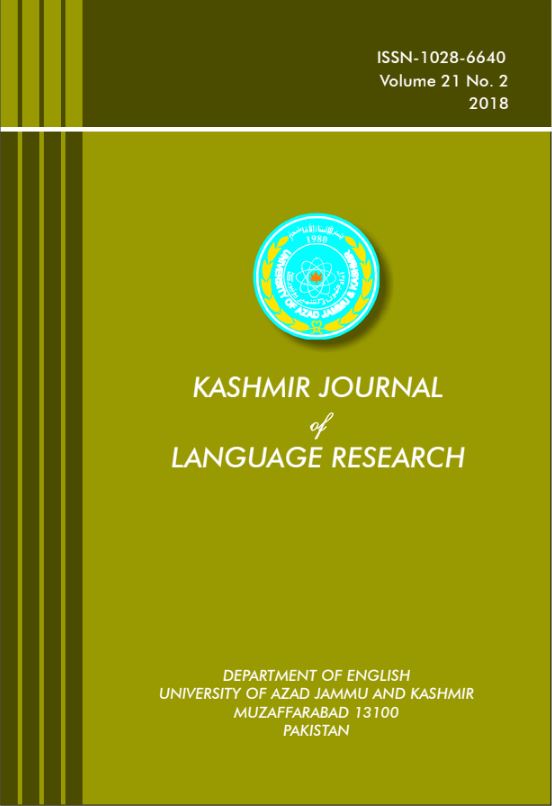 Downloads
License
Copyright (c) 2021 Kashmir Journal of Language Research
This work is licensed under a Creative Commons Attribution 4.0 International License.