Ontological Reality in Amir Khusro's Metaphysical Poetry
Poetic Iconicity Analysis
Abstract
The main purpose of this study is to explore Amir Khusro's Metaphysical Poetry by means of Poetic Iconicity Analysis. Metaphysics is a branch of philosophy that deals with the nature of inner-reality. Metaphysical poetry deals with ontological, cosmological and psychological aspects of reality as proposed by Taylor (1909). This study is focused particularly on exploring ontological aspect of his metaphysical poetry by analyzing metaphors of God, and brings to light how Amir Khusro's inner-feelings towards God have been put into concrete images and what meanings they convey metaphorically. In the light of theory of Poetic Iconicity proposed by Freeman (2009), iconicity in poetryis exploited to structure our thoughts, create 'images' and stir our minds and emotions to create 'semblance of felt life'. She calls Iconic structures different 'form of feelings', and according to her, iconicity is not only similarity between 'form' and 'meaning', but feelings also play a main role in creation of meaning, and have been 'invested' purposefully by the poet to make it look phenomenally real. Crotty's (1998) 'transactional mode of reading' as a hermeneutical technique has been applied to analyze, interpret and discuss the selected data. It has been found that Amir Khusro's poetry is passionate and reflects attributes of God's love. He has presented image of God as his beloved, and attained a higher status of Annihilation in God's love. God's love has been considered an essence of all contemplation and is quite imminent in his poetry.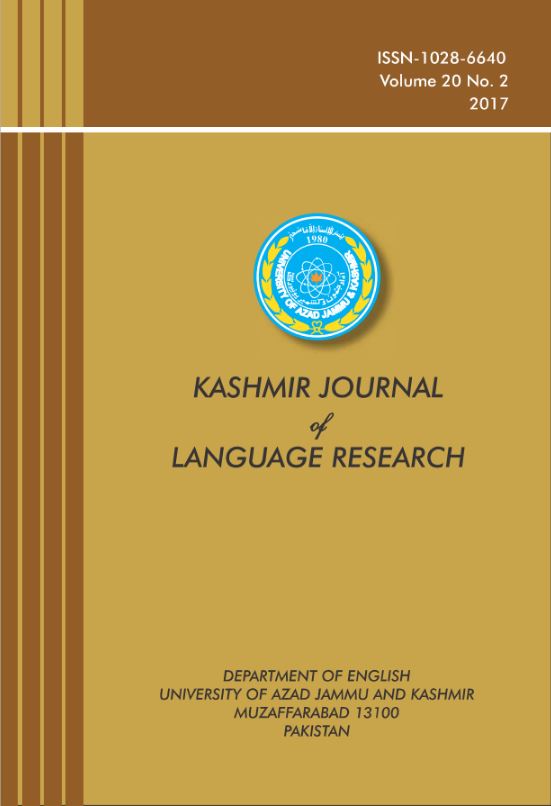 Downloads
License
Copyright (c) 2022 Kashmir Journal of Language Research
This work is licensed under a Creative Commons Attribution 4.0 International License.