Crossing Over the Communicative Barrier
Case of Helen Keller's Developmental Disability and Language Learnability
Keywords:
Developmental disability, language learnability, literacy skills, communicative competence
Abstract
The present qualitative study reviews Helen Keller's triumphing over her deafness and blindness through her fairly successful acquisition of language, growth of communicative competence and the representation of literacy skills. It engages the traditional language theories with her first person account The Story of My Life (1902) and, interprets her model of acquisition and learning of language. The cognitivist and behaviorist language theorists have presupposed the physiological normalcy of a learner for propounding a theory and, thus, have conveniently overlooked the intricate relationship between developmental disability and language learnability of special children, suffering from aural and visual impairment. Helen's exposure to language and her success with its representation in her times was undoubtedly a breakthrough in the world of communication. Helen has been through the conscious 'torment' of learning because of her developmental disability and onerous task of language accessibility, reinforcement and its assimilation. Her concept of language and learning paradigm was an experience that was understandable only through fingers and sense of touch. Before language, she felt locked in the dark prison of non-communicative life and her conscious lacked any recognizable linguistic expertise in the target language for its expression. The current study underscores the need for theory generation on the language deficient special learners by analyzing the unique case of Helen Keller as a reference point for research, and highlights the mechanism and developmental stages of learnability involved in the performativity of language for a disabled child.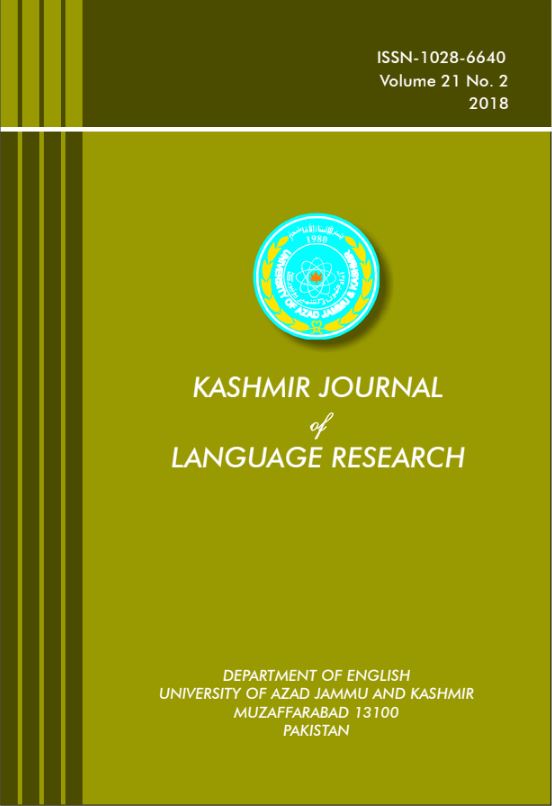 Downloads
License
Copyright (c) 2021 Kashmir Journal of Language Research
This work is licensed under a Creative Commons Attribution 4.0 International License.