Exploring Argumentation in Print Media
A Comparative Metadiscourse Analysis of British and Pakistani English Newspapers' Letters to the Editor
Keywords:
Metadiscourse, Argumentation, Newspapers, Letters-to-the-Editor,Pakistani English, British English
Abstract
Letters to the Editor (LTE) is an important forum for public interaction in the print media. It is considered as a source of informing opinion of the public it represents and serves. Being a medium to express public opinions, the discourse of this genre is argumentative in nature and is the focus of this research. Hyland's (2005) Interpersonal Model of Metadiscourse has been chosen as the framework of this study to identify the interactive and interactional discourse markers and explore the persuasive strategies used to guide and involve the readers within the text. Comparative textual analysis is applied for studying metadiscourse in the British and Pakistani English Broadsheet Newspapers due to their analogous format and objectives. Systematic Sampling Technique was used to collect a corpus of 100 letters, 25 each from the British Newspapers (The Guardian and Daily Telegraph) and 25 each from the Pakistani English Newspapers (Dawn and The NEWS). The results reveal a dominance of Interactional Metadiscourse over the Interactive Metadiscourse among the newspapers. Furthermore, the British writers are observed to develop an impartial argument with the factual information. Conversely, the Pakistani English letters focus on the cohesion and coherence of the content and the comprehension of the stance. The findings of the study are useful in developing linguistic and rhetorical awareness among users of English language of various cultures by enabling them to concentrate more on interacting with their addressees along with the organization of their information, which would make them more efficient in their argumentative and creative writing skills.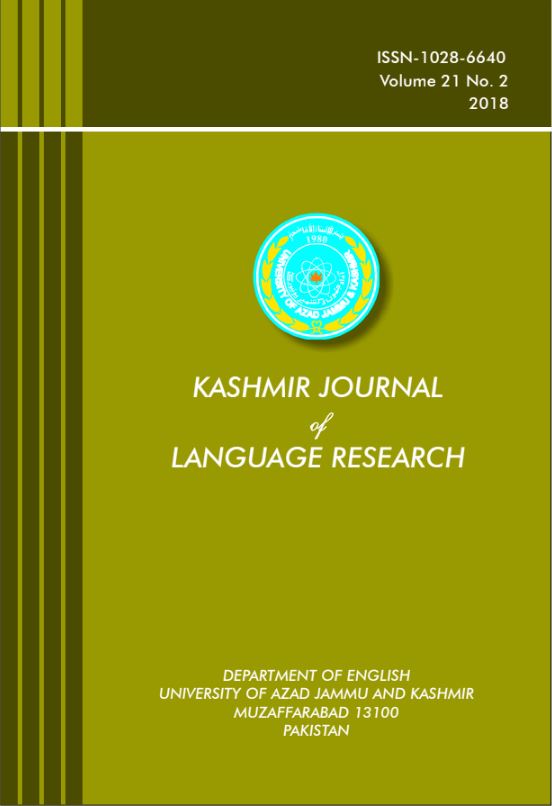 Downloads
License
Copyright (c) 2018 Kashmir Journal of Language Research
This work is licensed under a Creative Commons Attribution 4.0 International License.