Triumph over Patriarchy
Acts of Resistance in the Poetry of Kishwar Naheed
Keywords:
oppression, resistance, feminist perspective, patriarchy, agency
Abstract
The aim of this paper is to offer a few examples of perusing
feminist agency through an analysis of the poems of Pakistan's
pre-eminent women's activist writer, Kishwar Naheed.Some
images of women'soppression and their acts of resistance in
Naheed's poetry are highlighted and represented from feminist
perspective while using Scott's theory of "Everyday Resistance."
This paper also aims to inspect some practical and symbolictactics
of resistance the female elocutionists in the selected poems of
Kishwar Naheed follow to conquer the male centric authority over
their subjectivity and to extend a selfappreciation
identity and freedom. While speaking out against
patriarchal norms, Naheed manages to challenge the negative
stereotypes of women tooin the poems.In her poems, female
speakers become their own liberators and they crave and strive to
break the rules and shed the shackles which imprison them while
rejecting all male-chauvinistic social orders. This paper follows
the development and change of the female speakers and shows how
they move from being passive recipients of exploitive patriarchal
actions to being active agents of resistance. For this purpose, the
translated version of Naheed's poetry by Rukhsana Ahmad and
Mahwash Shoaib is used.The scope of existing studies of Naheed's
poetry is limited to the exploration of the objectification of women
in her poems, but there is gap in criticism regarding how the
women in Naheed's poetry struggle to liberate themselves from the
shackles of patriarchal society. This paper might help the future
researchers in understanding Kishwar Naheed's poetry in a better
way and also help them in exploring various dimensions of
feminism.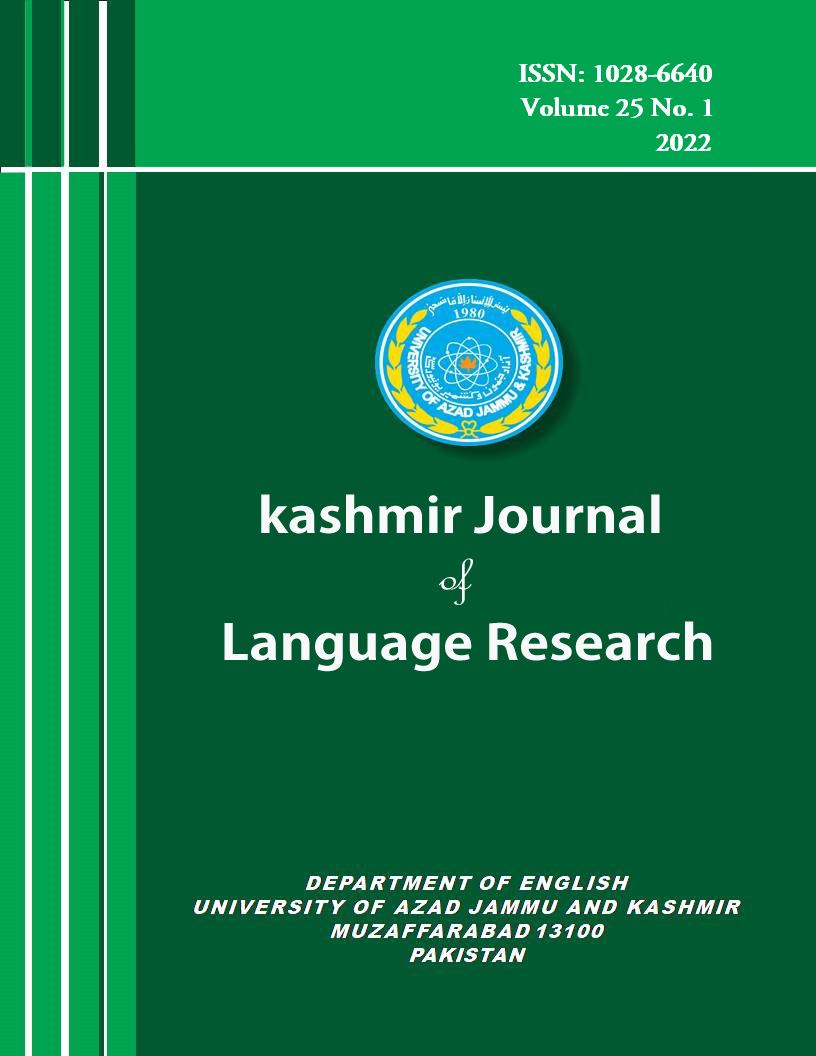 Downloads
License
Copyright (c) 2022 Kashmir Journal of Language Research
This work is licensed under a Creative Commons Attribution 4.0 International License.