Discursive Construction of Pakistani National Identity in Print Media
Keywords:
DHA (Discourse-Historical-Approach), National Identity, Discursivity, Print Media, THE NEWS, The DAWN, Wordsmith, Keywords. Kargil, Kashmir, Peace
Abstract
The paper looks into the discursivity construction of national identity in English language Pakistani newspapers. It examines how Pakistani national identity has been portrayed in the print media and what kind of strategies, themes, and linguistic means have been employed by the newspapers on a national day being celebrated on 14th August, 1999. Using DHA (Discourse-Historical-Approach) given by Wodak, as a framework for the paper two newspaper reports/stories have been selected for the analysis of the discursivity. This investigation also includes the Corpus Linguistics software Wordsmith 6.0 in order to elicit the keywrods from the respective reports, which gives lexical difference of the text. It was revealed that various strategies used by the newspaper reports portrayed Pakistan as we-group and India as other group in the construction of sameness and difference. The national event of birthday of Pakistan was used as a political wagon to further the political and economic agenda of the government. The lexical difference between two newspaper reports projected three lexical items, Kashmir, nuclear, and peace as the same in both reports, whereas the rest of the keywords points to different sub-topics under the discursive construction of Pakistani national identity. The newspaper reports were observed quite instrumental in projecting discursivity in the form of headings, contents, themes discussed and lexical items included.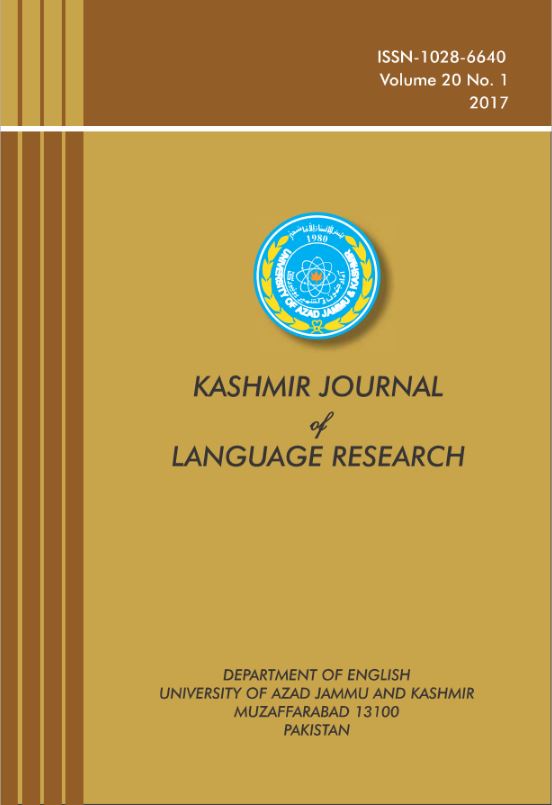 Downloads
License
Copyright (c) 2022 Kashmir Journal of Language Research
This work is licensed under a Creative Commons Attribution 4.0 International License.