Daughter's Father
Glorification of Father's Image in Pakistani Political Autobiography
Keywords:
Honor, Autobiography, Father's image, identity
Abstract
The present research study is conducted on a Pakistani autobiography, Daughter of the East (1989),written by the former Prime Minister of Pakistan Benazir Bhutto to examine how the narrator celebrates her father's political achievements while defending his vulnerable political image. Benazir is proud of her father's political accomplishments and stands up to them. In the traditional patriarchal culture, a father is expected to be the "protector" of his family's respect and honor but Benazir, the Eastern daughter, defends the image of father in her political autobiography (Tunaboylu-Ikiz, Ertem-Vehid, Dü?gör & Yavuz, 2008, p. 304;De Sousa Bastos, Volkmer-Pontes, Brasilerio & Serra, 2013, p. 231). Her convincing voice for the adoration of her father's image makes her the heir to her father's political legacy. She fights for her father's cause of democracy and substantializes his dreams in the form of her own premiership. She raises her voice against Zia's military regime that hanged her father, and remains strong willed to tell about her determination to revive democracy in Pakistan. Textual analysis has been used as a research method to interpret and analyze the text with the help of extra-textual knowledge such as historical and cross references, feminist perspectives, narrative strategiesand secondary resources.Benazir's narrative encapsulates the unconditional love of a daughter for her father. She follows the footsteps of her father and tries to live through his dreams. She has inverted the traditional maxim "like father, like son" to "like father, like daughter." The research findings guide that though the daughter idealizes her father yet she does not construct her identity completely subservient to him. Benazir makes the reader realize that she has sacrificed for her father's choices and to have an independent existence.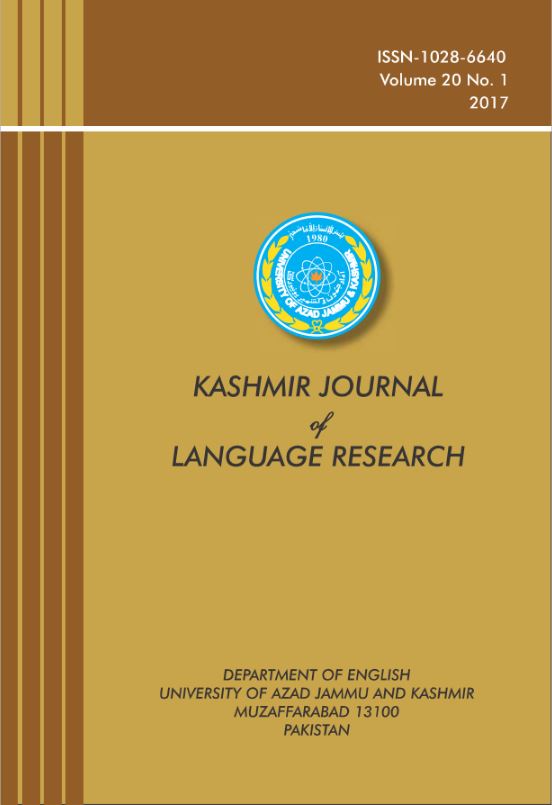 Downloads
License
Copyright (c) 2022 Kashmir Journal of Language Research
This work is licensed under a Creative Commons Attribution 4.0 International License.